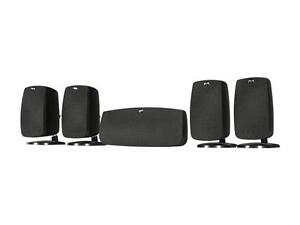 When you're the best selling surround sound system of all time, performance means everything, and the Klipsch Quintet doesn't disappoint. These home theater speakers utilize Tractrix® horn technology and lightweight Aluminum drivers for crisp, clear and uncompromising sound quality.
Comprised of four miniature speakers and a low-profile center channel the Klipsch Quintet home theater system incorporates decades of class-leading research and development experience. In fact it applies the same cutting-edge technology that's found in our professional cinema products.
Klipsch Quintet 5 CH Home Theater System $199.99 + Free Shipping!